Holidays 2007
To Carole at "Clifton House"
Thank you so much for Our stay.I personally feel that this hotel is by FAR the best I have ever stayed in whilst coming to Blackpool.
We travel to Blackpool up to 5 times a year and we will never stay anywhere other than Clifton House in future. So glad we come across it.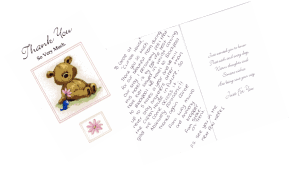 Absolutely fantastic!!
Thanks again Carole
From Lucy Munro and Anthony Knapper Stoke on Trent.
Ps. see you in the next few weeks.
To Carole and Mick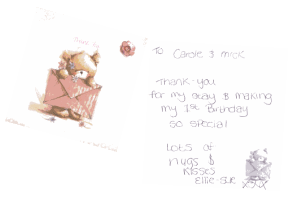 Thank - You
for my stay and making my 1st Bithday So SPECIAL
Lots of hugs and kisses
Ellie-Sue xxx
Holidays 2006
Thank You Carole
Dear Carole
Just a little note to say thank you for our enjoyable stay at Clifton house.The room was lovely and your food was delicious!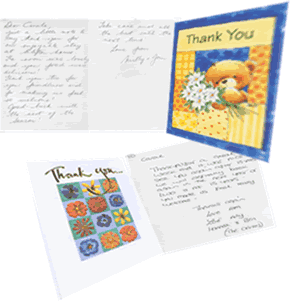 Thank you too for your friendliness and for making us feel so welcome! Good luck with the rest of the season!
Take care, and all the best till next time!
Love from Milly & Jim
To Carole
Thank you, for a great week end it was so nice to see you again after 15 years we will defiantly book again in the next year or two & not 15 years .You made us feel really welcome,
Thanks again Love from Yoe " Ady Hnnah & Ben (the Clarks)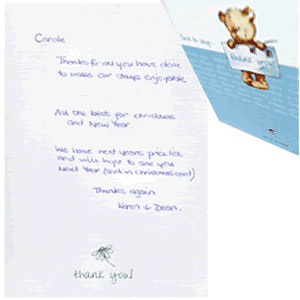 Carole
Thanks for all you have done to make our stays enjoyable
All the best for chistmas and New Year.
We have next years price list and will hope to see you next Year(sent in chistmas card)
Thanks again Karen & Dean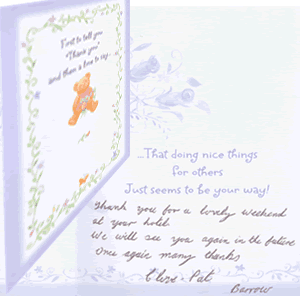 Carole
Thank you for a lovely weekend at your hotel We will see you again in the future Once again many thanks
Clive, Pat Barrow